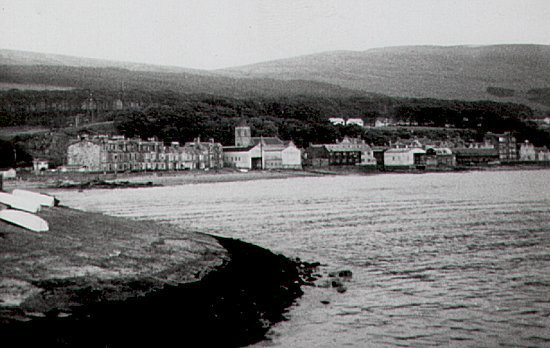 I posted this picture of
Fairlie, Ayrshire
on my website a few years ago. That page recalls how I original thought the photograph was of Brodick on Arran and how I traced the actual locality of the scene. It includes a recent (2004) picture by someone from North Ayrshire Council.
I've had a number of reponses since from people who were once connected with the area.
The latest was from Gail Kennedy who wrote
I lived with my grandparents at 8 Allanton Park Terrace, Fairlie from 3-18yrs. My house was the first of the tenament buildings (nearest the pier quay side) you can see in your 1967 photo. My grandfather worked in the famous shipyard you refer to, the sheds which can be seen in the photo and I went to Sunday school in St Pauls church. It has a Fife yacht on its spire. I have a pencil drawing I did at 14yrs of the view from my grandparents' window and it shows the shipyard sheds in quite detail - like a zoom in of your photo. I used to walk most nights with my grandfather down Fairlie pier where the steamer The Glen Sannox made daily trips to Arran. I have memories of colourful hippies coming off the boat after the infamous rock festivals held on Arran in the 60s and I also recall one night when some cows which were being herded off the boat, fell off the pier into the water - I think a couple drowned. Fairlie also used to have a kipper smokehouse. I last visited about 10 years ago and it has changed a lot. The shipyard no longer exists sadly but there was a brilliant documentary on TV about the beautiful Fife yachts and there is also now a company in England called Fairlie Restorations which restores the yachts to their former glory. It was wonderful to see the 1967 photo especially as, apart from my own drawing, I don't have any. It was especially meaningful because it actually shows the house I lived in and the chalet next door, which my grandparents kept an eye on for the summer visitors who owned it. An enormous dead basking shark was once washed up in the bay in front of the house at Fairlie. I still remember the smell and watching the 2 enormous trucks they needed to remove the carcass. Fairlie will always have such a special place in my heart - thank you for bringing it to life again.