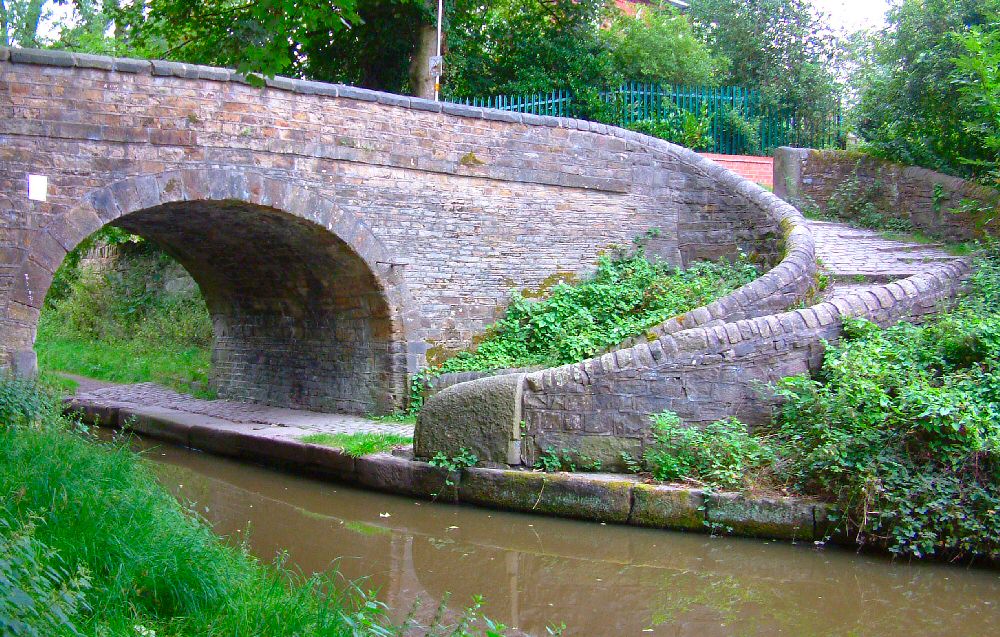 Today's theme on
Hyde DP
is
Photo of the Year
. I couldn't pick just one out of all the photos I'd published this year, so selected twelve contenders, created a web page, and asked all my readers to vote for their choice. I want to thank all the people who took the trouble to vote. The winning picture is shown on
Hyde DP
. The close runner-up is shown above.
Here are the results, together with links to the original postings and some comments from voters. All twelve photographs can be viewed together at
The Best of Hyde Daily 2007
157 votes ~~
February 10th:
~~ St Thomas the Apostle.
that tilting headstone just knocks me out — love the unique architecture, quaint yet the window is grand for its size — the green grass provides a sense of life to the otherwise sad subject
152 votes ~~
October 12th:
~~ Captain Clarke Bridge.
the sweeping circles and arches here are delightful — always loved the walk up each side of the canal — walks along the canal in our courting days — brings back memories of youth rowing under it — it is a beautiful piece of construction — admire the craftsmanship that went into building it — wonder how many men were engaged and how long it took to build? — as a young boy enjoyed many a summer down by the canal, happerly playing, and watching all the beautiful boats gingerly passing by
111 votes ~~
August 3rd:
~~ Grapes Hotel.
I'll be drinking a few in there over Christmas — my friend's father used to run the place in the early 1960s and we explored every inch of the place — slipping out of Hyde Chapel Saturday dances for an "underage" pint as a morale booster
107 votes ~~
October 14th:
~~ Tit Feeding.
what a sweet little birdie
101 votes ~~
February 9th:
~~ Pylons.
like the bleak nature of it
58 votes ~~
March 20th:
~~ Market Carousel.
great memories of my childhood in Hyde — happy childhood memories of Hyde, and the "dead dog pie stall" on the market — makes me think of the painting "A Northern Saturday" a truely spectacular depiction of Hyde
58 votes ~~
June 29th:
~~ Seal Sculpture.
for the pedestrian's open-mouthed stare
49 votes ~~
April 24th:
~~ Gone.
well spotted, and not always there, the way the crane frames the roof is great — heres to a new Hyde with a cheeky old reminder looking on (the Town Hall that is)
37 votes ~~
February 28th:
~~ Motorbike.
on the basis of the sign you managed to include as well; 'Cool Mexican' the biker most certainly isn't!!
28 votes ~~
March 10th:
~~ Bandstand.
the lighting and colours are lovely! — my grandfather used to take me to listen to the band concerts and to sail my toy sailing ship.
28 votes ~~
March 19th:
~~ Fallen Logs.
looks like somene left behind a giant pair of green pants
19 votes ~~
March 2nd:
~~ Great Norbury Street.
walking home after work at Hyde Station 1950